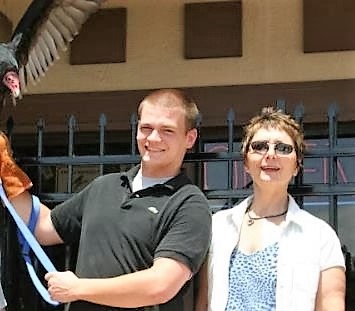 By JoAnn Smith
Certified STOTT PILATES Instructor
"Grief is a tidal wave that over takes you, smashes down upon you with unimaginable force, sweeps you up into its darkness, where you tumble and crash against unidentifiable surfaces, only to be thrown out on unknown beach, bruised and reshaped." Anonymous
I found out how true this quote was when my son, Brian died in March 2008. He was 20 years old, attending the University of Nebraska at Lincoln studying Wildlife Management. While on a ecology study trip to Puerto Rico, he suddenly collapsed, went into cardiac arrest and could not be revived. The autopsy showed his heart was so greatly scared and enlarged, that if he had survived, he would need a heart transplant immediately.
The death of a child affects parents physically, emotionally, spiritually and cognitively. It is one of the worst traumatizing experiences a parent can face. Such extreme grief is hard, demanding, physically draining and exhausting. It is not unusual for newly bereaved parents to experience flashbacks while processing the death. We can be catapulted back to that "moment" in an instant. That moment of the phone call or that knock on the door that brought us literally to our knees. We relive that moment over and over again during those initial days, weeks, months and sometimes years. John and I learned that creating our own personal "grief toolbox" was the best way to cope. One of my tools was Pilates.
My Pilates practice helped me strive towards becoming grounded again. The breathe pattern calmed down the constant emotional chaos and softened the anxiety. The exercises required concentration and this helped me to stay in that present moment. The verbal cues that I came to treasure provided a way to engage my mind with other images and provide a respite from the "playbacks" of that night. The movements were soothing and comforting. Feeling my muscles move, contract and stretch was life affirming for me. Pilates encouraged me to experience hope.
Practicing Pilates also helped me to gradually move away from the more physically demanding exercise I was doing. I rode my bike over 100 miles a week and walked, jogged and ran to push away the intense emotions. Pilates helped me acknowledge that no amount of pounding into the ground for days, weeks and months will take away the pain. You see, it is not just grief and sadness we feel when our child dies, there is also the anger, bitterness, regrets and guilt. The "why", "how" and "if only I had" questions can really reek havoc on a parent's life and ability to just even function, to "re-enter" back into the responsibilities and tasks we still need to return to.
I firmly believe that engaging in purposeful movement activity such as Pilates can provide parents a way to practice making life choices again. We had no choice regarding the death of our child, but we can choose how we treat and care for ourselves because this journey, this process never ends. It only shifts, changes and evolves. As bereaved parents, we experience the inability to protect our child. Even if we know rationally, we could not have prevented their death, emotionally we can be left with a deep wound. Parents are supposed to protect their kids, yes, even their adult children as well. We may know intellectually that their death was not our fault, but finding peace in our hearts can be a monumental undertaking.
My son's death was indeed the catalyst for my decision to pursue additional Pilates training. But it was and is the Pilates Center of Omaha that had my back since my first training about 5 years ago. It started with Wendy 's email reply that said "yes, please come. We will teach you what you need to know" to the numerous teaching opportunities they offer, that support has been steady. I do not think I can express how much gratitude I have come to experience for the Pilates Center of Omaha, the instructors, owners and clients. This is another place that I have the opportunity to honor my son's memory. Brian was an athlete, and very fit. His favorite sport was Lacrosse. Shortly after he died, someone told me that he was impressed with my Pilates practice. I decided at that moment that this was one way I was going to honor his memory, to continue feeling connected with him. And most importantly, to share how important it is to move our bodies, to strength and stretch our muscles. To honor our bodies as they are and to be grateful for the opportunities a healthy body can lead us to. We may never know why Brian's heart gave out when it did, but we were told that most likely he lived a longer life in spite of his heart condition because he did exercise. How powerful is that!
The Pilates Center is more than just a place to practice Pilates. It is also a place to re-wind, rejuvenate and refresh both the body and mind. Since I primarily teach evening classes, I see clients coming in after a full day, fighting traffic and coping with last minute responsibilities at work and home. I see them leave relaxed and feeling great that they made that effort. There is a great feeling of gratitude I have for these clients! They have helped me in my journey and I hope that I have provided the same benefit to them as well.
Jo Ann Smith has a B.A. in Special Education from William Paterson University located in New Jersey where she is originally from. She moved to Omaha after graduation to teach in the Omaha Public Schools system developing social and vocation skills for young adults with developmental disabilities.
Jo Ann began practicing Pilates 12 years ago to help manage a low back issue. She started teaching Pilates shortly after seeing and feeling the physical benefits. She became certified as a STOTT PILATES® Intensive Mat -Plus instructor in 2011 and completed the Injuries and Special Populations training the following year.
Jo Ann has completed the Total Barre Instructor, Core Instructor and Zenya Instructor training. The most recent training was Aerial Silks and she has discovered that is a fun way to diversify a Pilates workout. She is pursing a goal of becoming a Fully Certified Stott Instructor and completed the Intensive Reformer and Intensive Barrels training.
Her true Pilates passion is encouraging bereaved Moms to consider the value of Pilates work to manage and support the grief process. The Pilates Center is now offering an Introduction to Reformer class to Mothers/Grandmothers who are living with the loss of a child.