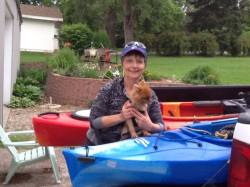 There are many diverse reasons for taking a Pilates Reformer class and sometimes our motivation is
very personal and individualistic. We may come to strengthen our core, tone up muscles, improve our
posture. Maybe we are post surgery and/or want to care of a nagging back issue. But have you thought
about how a consistent Pilates practice can help us have fun? How it can improve our ability to more
completely engage in our recreational activities? Well, spring is definitely here and the outdoors is
beckoning. Are you looking to add something new and relatively inexpensive to do outdoors?

Consider kayaking! Over the last 7-8 years, kayaks have become a more common sight on area lakes
and are now less of a novelty. Paddling offers a low-impact activity that is fun. We can disconnect from
the numerous electronic interruptions that we manage throughout our day (this works best when we
leave our phones behind!). Kayaks are lightweight and fairly easy to transport. They range in price
from very reasonable ( few hundred dollars) to quite expensive for the boats that come equipped with
various bells and whistles.

Just like the Reformer work-outs, kayaking calls into play the total body. Many people think that
paddling is primarily about the arms and shoulders. But correct efficient kayaking uses the entire body
including the legs. The legs are actively involved to keep us feeling secure by providing a point of
contact with the boat. This happens when we press our feet into the foot rests or press our thighs to the
sides of the boat. The lower limbs help brace our hips to more efficiently rotate the torso. Our obliques,
abdominal and spine muscles play a huge role with the paddling as rotating the core provides the power
that is then transferred into the stroke that gets our boat moving forward.

Kayak paddling gets our upper body muscles working as well and I want to highlight just a few of my
favorites. The latissimus dorsi muscle is our broadest back muscle and it is super engaged here. This
muscle works to move the arms down, back and the inward during the forward stroke. The rhomboid
major and minor muscles work to retract the shoulder blades towards the spine and this movement also
happens during the forward stroke. Paddling works the biceps and triceps of the upper arm along with
the forearm muscles and even our hands. The shoulder and rotator cuff muscles are definitely not left
behind so it becomes imperative that we strengthen those muscles as well.

If you are coming to the Pilates Center of Omaha Reformer classes, you are most likely hearing these
muscles referred to during a class. I love this about the Stott Pilates method! We get you moving on the reformer, but we also point out the target muscles to engage. We explain the rationale associated with particular exercises. Spine Twist Seated (or kneeling) involves spinal rotation. Think about the
movements involved when seated in a car and you turn to get a seat belt on. In our classes, we flex and extend and we rotate and bend the spine. These are the movements we need to complete our daily
activities. These are movements we can complete during a single kayak session too. We bend to pick it
up and we slightly extend when we reach up to place the kayak on top of the car. We rotate through the
core as we paddle and a good side bend feels fabulous once back out on the beach!

Before I committed to a more consistent Pilates reformer practice, I needed a helping hand to stand up
and get out of the boat. Strengthening the glutes and hamstrings provided me with the sweetest reward I can independently get myself back on land! I love the way I can correct with my core muscles to
rotate my torso. This keeps me free from unnecessary shoulder or arm pain. I have the muscle strength
and endurance to rhythmically paddle for a longer time frame without fatigue. That paddle time
provides me with any and all the stress relief that I may be craving!

So, consider teaming up your Pilates practice with a few kayaking sessions over the next several
months. Together they make a great couple! Kayaks are plentiful at all the local sporting good stores
and there are opportunities in Omaha to rent first before buying. If you are ready to give it a try or if
you are currently a kayaker, perhaps consider your # of visits to PCO. Are you coming once a week?
Then you are working on injury prevention. We want to continue coming to classes and getting out on
the lakes. With 2 sessions per week, you are building strength and flexibility. Remember – you will
most likely be picking up and carrying the kayak at some point. With 3 sessions a week, you will be
rocking a totally awesome strong and flexible body in that boat! What a great way to enjoy our greatest gift - our life!
Jo Ann Smith has a B.A. in Special Education from William Paterson University located in New Jersey where she is originally from. She moved to Omaha after graduation to teach in the Omaha Public Schools system developing social and vocation skills for young adults with developmental disabilities.

Jo Ann began practicing Pilates 12 years ago to help manage a low back issue. She started teaching Pilates shortly after seeing and feeling the physical benefits. She became certified as a STOTT PILATES® Intensive Mat -Plus instructor in 2011 and completed the Injuries and Special Populations training the following year.

Jo Ann has completed the Total Barre Instructor, Core Instructor and Zenya Instructor training. The most recent training was Aerial Silks and she has discovered that is a fun way to diversify a Pilates workout. She is pursing a goal of becoming a Fully Certified Stott Instructor and completed the Intensive Reformer and Intensive Barrels training.